The Polar Bear Clause
"Most of us would probably have difficulty recalling the statistics that flowed so 
persuasively throughout Al Gore's elegant film, An Inconvenient Truth.
The drowning polar bear was another matter!
The bear was the film's saddest sight and the thought of the North Pole's most powerful creature struggling to span
the ever-increasing distances between Arctic ice floes was eloquent proof of photography's ability
to carry an argument across another of nature's great expanses.I'm talking about the gap that exists between the brain and its even more influential partner, the human heart.
Al's flow charts made you think about global warming
but it took the bear to make you feel the heat of the argument."
"The 11th Hour" Movie
Movie Review by Sandra Hall
Sydney Morning Herald, October 8th, 2007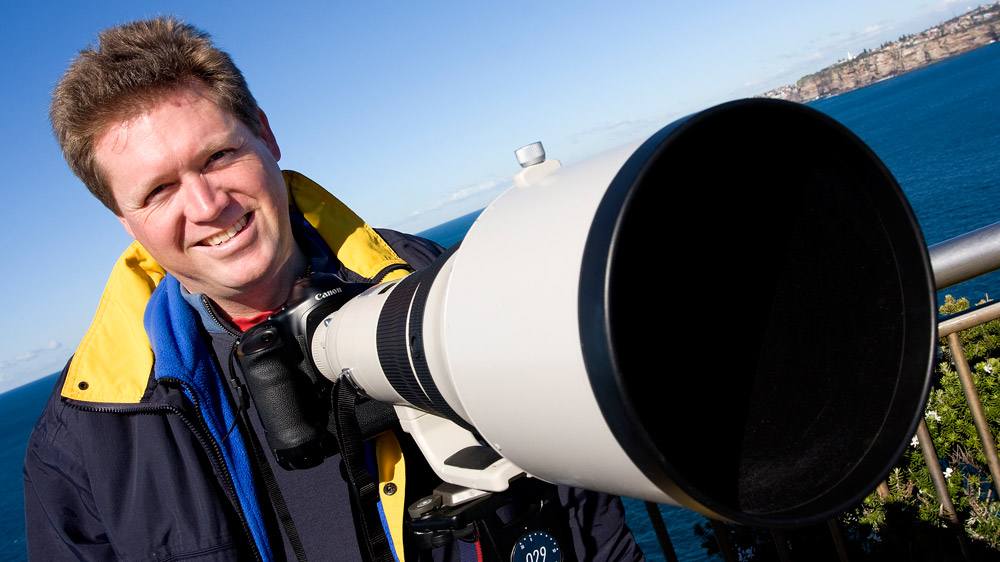 David Jenkins "Images That Change the World!"
David Jenkins vision is to create 'Images that Change the World' and that show 'Reflections of the Spirit'!
Today with the crisis of climate change, over population and the continued rapid degradation of the Earth David believes even more passionately
in the power of great images to talk to people's hearts and affect change.
He is therefore looking for opportunities to work alongside scientists, educators and environmentalists to help illustrate
their discoveries, making them easier for people to understand and appreciate.

David Jenkins CV
Over the past twenty four years David has run the successful photographic business – Nomad Photography. It has been an exciting and varied experience covering various photographic assignments including Extreme Sport, Travel / Adventure, Portraiture, Reportage, Dance, News, Sports Team Photographer, TV Film Unit Photographer (Documentaries) and Wilderness / Environmental.
David's clients include the City Of Sydney (as official photographer to Sydney's Lord Mayor since 1997), the NSW Ministry for the Arts (as official photographer to the NSW Premier), NSW Rural Fire Service, Royal Institute for Deaf and Blind Children as well as many commercial and private clients.
A strong believer in the power of photography not only to change people's minds but people's hearts David has undertaken environmentally themed work on many of the environmental challenges facing mankind and our planet. This has recently led to wonderful collaborations with the Manly Environment Centre (MEC) and Macquarie Universities Marine Mammal Research Group.

Photographic Awards, Publications and Exhibitions
Awards
The EPSON International Pano Awards 2011, two Silver and five Bronze Awards.
The "Long Reef " image ranked 14th in the world
1st Place in North Sydney Council "Seniors Moments" Photography Competition 2009
Finalist in Manly Environment Centres "Eco Awards" 2009, 2010 and 2011
Short Listed Hasselblad Masters 2002 and 2003

Books Published
"This Is Me!" Portraits of Life by David Jenkins, Published in 2010
Solo Exhibitions
"This Is Me!" Portraits Of Life in galleries in Manly and Surry Hills, Sydney. 2004
Group Exhibitions
Directory of The Art Sanctuary Gallery 2005 to 2010
Vintography Exhibition – Chatswood Concourse 2012
Northern Expressions Group Show – NSW Parliament House 2011
Manly Environment Centre "Ocean Care Day" 2007, 2008, 2009, 2010 & 2011
Manly Environment Centre "The Beauty of Biodiversity" 2010
Manly Environment Centre "Lagoon Life" 2009
North Sydney Council "Seniors Moments" 2009
Manly Art Gallery & Museum "The Nature of Manly" 2008-09
Manly Environment Centre "Forces of Nature" 2007
Mosman Art Gallery "Mosman 2088" 2005 & 2006
Canberra Museum & Art Gallery "The Day the Sky Turned Black!" 2004-05
Manly Council "My Manly" 2005
Hasselblad Masters 2002 & 2003

Photography Collections / Achieves
City Of Sydney Council
NSW State Government – NSW Ministry of the Arts
North Sydney Council – Stanton Library
Manly Council – Manly Art Gallery and Museum
Work Published in Magazines
Better Photography (photos and stories)
Inside Sport
Pro Photo
Australian Camera (photos and stories)
Photography International
Scuba Diver Magazine
The Australian Way – Qantas inflight magazine
Panorama – Ansett inflight magazine
Jet Action News and Trick (photos and stories)
Work Published in Newspapers
The Sydney Morning Herald
The Sun Herald
The Sunday Telegraph
The Australian Magazine
Manly Daily
Mosman Daily
Peninsular Living